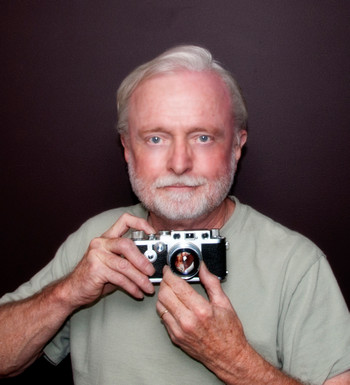 "Give an infinite number of Nikons to an infinite number of monkeys, and you will eventually get another "Moonrise, Hernandez, New Mexico". A few of the photos on this site have been around 30 years or more.

I've been one of the self-taught monkeys for more than 50 years. Still no "Moonrise", but I enjoy the shooting and occasionally create an interesting picture. From the beginning, I've done all of my own processing, shooting B&W film and chromes, and now all digital. The digital switch has been reinvigorating, permitting all of the processing work to be done in a very comfortable environment, often accompanied by food, beverage, and light.

My adolescent interest in photography was piqued by the secret acquisition of a book by famed glamor and figure photographer Peter Gowland. Figure photography remains a primary interest, over a half century later.

I often shoot with my wife Debra Rahl who started as my model and has become a serious photographer of figures, landscapes, and animals.

In addition to Peter Gowland, I have been inspired by many of the prominent photographers and painters of the last century, and by many friends who are professional artists. I travel extensively and have visited many of the great and small museums in the world.

I have had the opportunity to publicly display my photographs at: Angelfall Studios Gallery, The Carriage House Gallery, The Adler Gallery, the SoWeBo Arts Gallery, Mount Royal Tavern, Zella's, Gallery 788, Gallery 1448, and the lobby of the Charles Theater.